History
Local records say that residents in Luu Thuong Hamlet of Phu Tuc Village have practised the craft of Guot weaving since the 17th century, which later was expanded to the surrounding areas. However, the craft has developed strongly since the 90s with an expanded scale of production. To date, eight hamlets of Phu Tuc Village with about 7,754 laborers are making Guot articles. Luu Thuong Hamlet alone, for example, with 400 households and over 1,400 laborers, has more than 70 percent of its population making items from Guot plants.
According to 70-year-old artisan Nguyen Van Thong, in the past the villagers used to make household and farming items, but today they make various products for local consumption and also for export.
What is Guot?
The Guot plant has a natural dark red or brown color, and is pliable and durable. Good-quality Guot plants are often found in the northern mountain provinces of Yen Bai, Lang Son, Cao Bang and Bac Can. Before being woven into articles, Guot plants are dried under the scorching sun for several days, and then classified into groups in terms of their size and color depending on what type of items they will make. The plants can be kept whole, or split into two, three or four equal laths.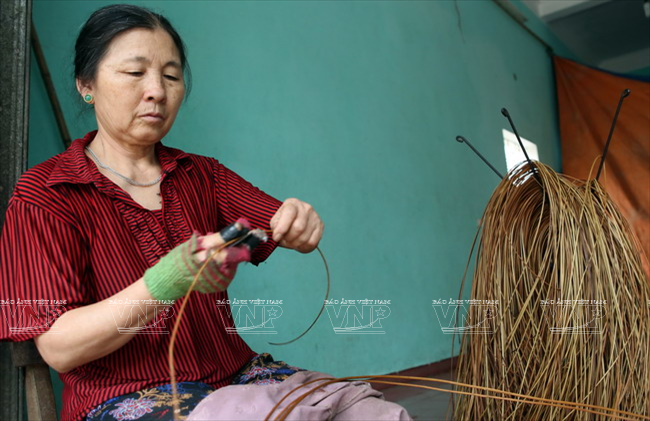 Artisan Nguyen Thi Nep in Phu Tuc Village polishes Guot laths to make different products.


Artisan Nguyen Thi Lan weaves a basket to hold fruit.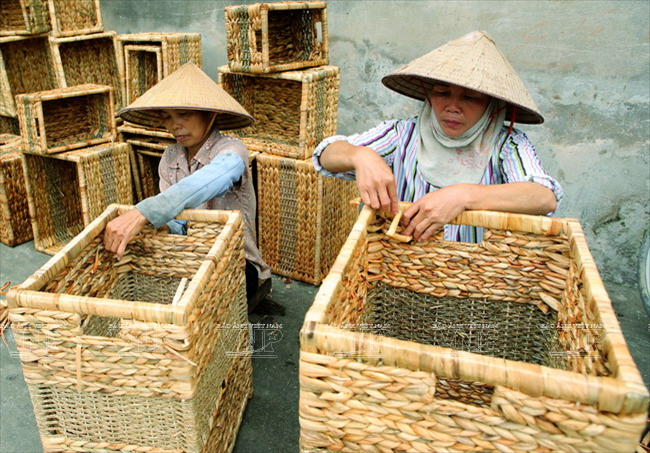 Baskets to hold clothes made from dried water hyacinth.


Guot woven products made by Phu Tuc villagers are beautiful and much sought after in the market.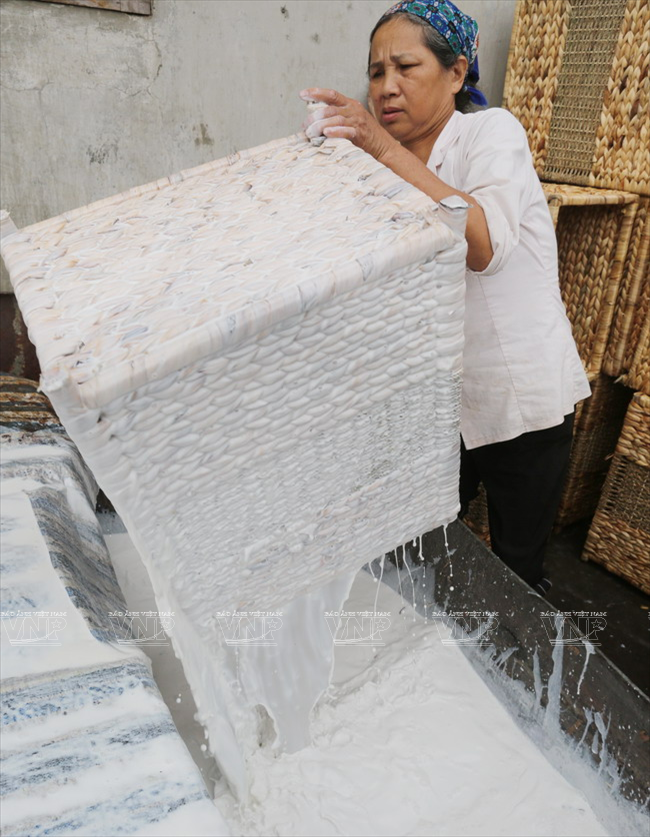 A stage in making products from the Guot plant.


Cleaning products before drying.


Guot products are dried everywhere in the village.


The craft of Guot weaving provides stable jobs for the locals.


The craft of Guot weaving brings the locals high income.
Guot plants of the same size and color are woven into the same model of products to make them consistent. When finished, they are smoked with sulphur, and then polished with oil to brighten their color and make them more durable.
The products are then dried again, and polished with oil for the second or third time depending on sale requirements, and preserved for some period of time before being packed into containers for delivery.
Guot Weaving
Guot weaving is processed totally by hand, so it requires little equipment and investment, just steam driers, tanks for oil polishing, and drying yards.
Other materials such as sedge, maize leaves, rattan and bamboo, spathe of banana and wild grass can also be used with Guot to turn out woven items. Phu Tuc villagers can make eight kinds of products with over 2,000 models and sizes for sale at home and for export to 20 countries and territories, including China, Japan, Taiwan, India and some Middle-east countries.
Making Guot woven products for export is specialized in each step by groups of weavers, each in charge of one specific job, such as weaving the products' base or body, drying the materials, polishing the products, etc. Finished products are transported to packaging facilities where they are stamped with brands and origin of production.
The business attracts villagers of different ages regardless of gender. Visitors to Phu Tuc village can see rows of Guot plants and other raw materials drying along the village lanes and in the yards, or being loaded in storehouses. Currently, the villagers make products upon clients' orders through contracts, hence they can do the business at home, or join the village's weaving collective. This way helps boost the village's strength in producing an integrated chain of production, improving the output and ensuring the products' quality.
Some Guot products of the village are sought after by customers at home and abroad.


Guot woven products are used for decoration and exported to many foreign countries.


Packing products for export.
Luu Thuong Hamlet, which is an initiator of Guot weaving, has become a tourist site among traditional craft villages in Vietnam's capital, Hanoi. The local market is now a center for the purchase and promotion of Guot woven products, run by 15 major trading groups including famous names.
The development of Guot weaving helps furbish the face of this craft village. Multi-storey houses have been built along the village's prefabricated roads. The traditional handicraft articles made from Guot plants are truly helping improve the life of the villagers and make the area a bustling economic spot.